My purpose on this earthly journey is to assist the living, the dying, and the departed in rediscovering their ancestral and animistic spiritual support, guiding them towards clarity, alignment, and their soul's emergent calling. I accomplish this through the ancient and reconstructed practices of shamanism, mediumship, and Seidr (Old Norse oracular arts).

I was an intuitive child and I first communicated with a deceased person around age 10. Since that time I've had many adventures, trainings, and dark nights that honed the ways I support people now.
In addition to being a spirit worker, I practice improvisational quilting and dance, I write, and I garden. I live with my husband and daughter in Victoria, BC.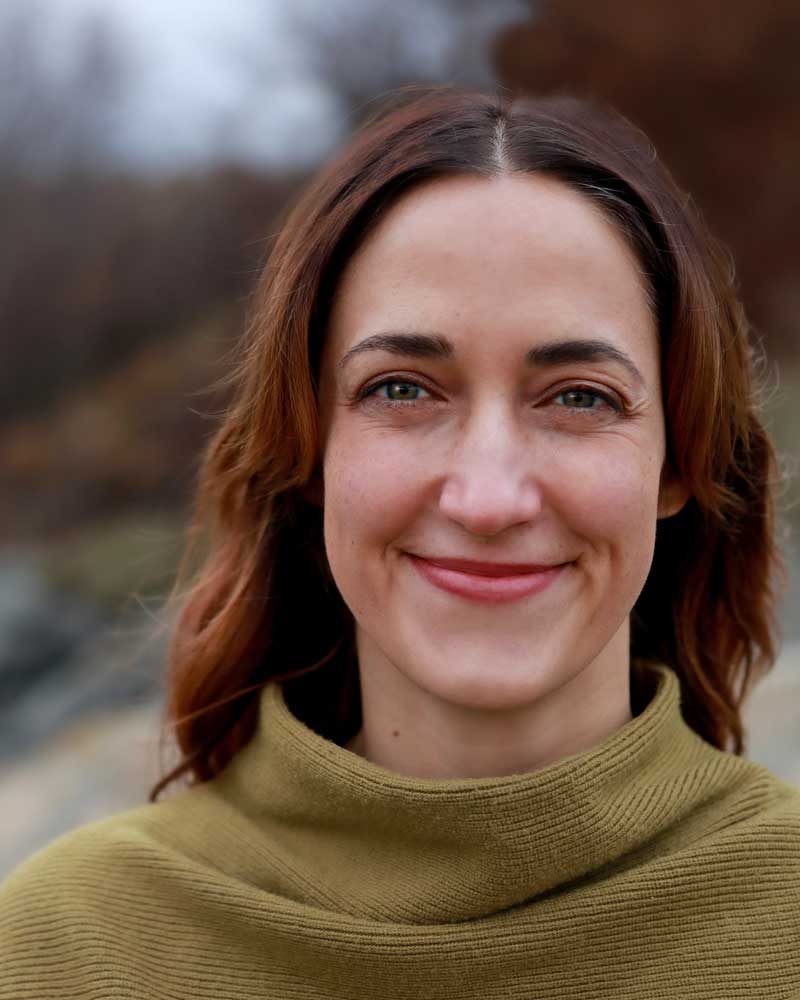 CLARITY, COMPASSION, INTEGRITY
To me, spirit work or shamanic healing is humble work rooted in collaboration. It is an expression of compassion to restore freedom, flow, and healthy relationships.
I think every healer who does spirit work has their own style, and based on what you and your guides need, each session can have its own flavor. Clients describe my style as nurturing, compassionate, illuminating, and thorough.
My husband used to call me the most reverant-irrevant person he knew. I may have tipped a little more toward reverence since I became a mother, but I am definitely not a holier than thou aspiring guru. I am a spirit worker and healer, devoted to good alignment – where life and each person's network of spiritual support can flow easily, in the way that is organic and true for them.
I have worked with a few damaging spiritual teachers in my lifetime (and some fabulous ones). All of my colorful experiences as a student, mentee, healing client, apprentice, and assistant have made integrity and compassion the centers of my work with people.
It is my heart's desire that you find all that you need to be nourished and to walk on this earth divinely, as you.
"Working with Rayann has enabled me to trust my own intuition and embodied knowledge."
– Ali Tahayori
Training
The path to becoming a spirit worker is rarely a linear one. For me, the greatest learning opportunities often happen in unexpected places. I am a hands-on learner and have learned as much in solitary retreats, receiving work from other healers, and from spontaneous spiritual experiences, as I have in formal training environments. I thank all those who have contributed their wisdom and care to my life as educators, healers, mentors, and colleagues.
My training as an artist and healer started in more traditional ways – having an artist mother, a university education in psychology, dance school, Reiki, meditation, many somatic modalities, and working with people in chronic pain through Pilates and rehabilitative movement. From 2008 onward my study and practice became more spirit focussed. Here are some of the highlights that will help you to know me better.
Shamanic/animistic healing skills (Sandra Ingerman, Julie Kramer, Rachel Weitz, and others)

Ritual skills and Ancestral Healing (Daniel Foor and Alyson Lanier)

Intensive study and practice in Tibetan Buddhist meditation (11 years total. Leaving Buddhism was one the most awakening, difficult, and empowering rites of passage of my life)

Mediumship with spirit (Julie Kramer -one 5 day intensive, Betsy Bergstrom – multiple weekend workshops)

Compassionate Depossession

(Julie Kramer – basic level and Betsy Bergstrom – basic and advanced level)

Curse Unravelling (Betsy Bergstrom)

Evidence based psychic mediumship (Arthur Findlay College tutor Sally Barnes – weekend workshop, Jude Starks – year long training)

Death doula training (INELDA)

Seiðr (Betsy Bergstrom – 5 years study and practice)

Right Use of Power (Cedar Barstow, Amanda Aguillera, Rabbi Charna Rosenholtz – Core Training)
I have had the pleasure of being touched by Ann Drucker's plant spirit healing and Sera Beak's soul space holding. Maya Angelou helped me to fall in love with myself. Helen Walkley (movement patterning) helped me to know my own body and where it can take me. My own ancestors and guides have loved me, challenged me, and pointed me home continually.
I am a member of the Association for Spiritual Integrity and the Right Use of Power Institute.
If you would like to know more about my training, ask me.